Ghost Mannequin Service
Ghost mannequin service is another important image editing procedure on Adobe Photoshop. Through this technique the photo editing service providers create natural ghost effect for clothing images. This process is also so much important like clipping path service technique to remove background. Clipping Photoshop is famous for providing high quality ghost mannequin service with high quality. It's another name is neck joint service as it helps to join the neck of cloths. If you want to get details knowledge of neck joint service, then you can follow our ghost mannequin tutorial where we have showed how to join the neck of cloths properly.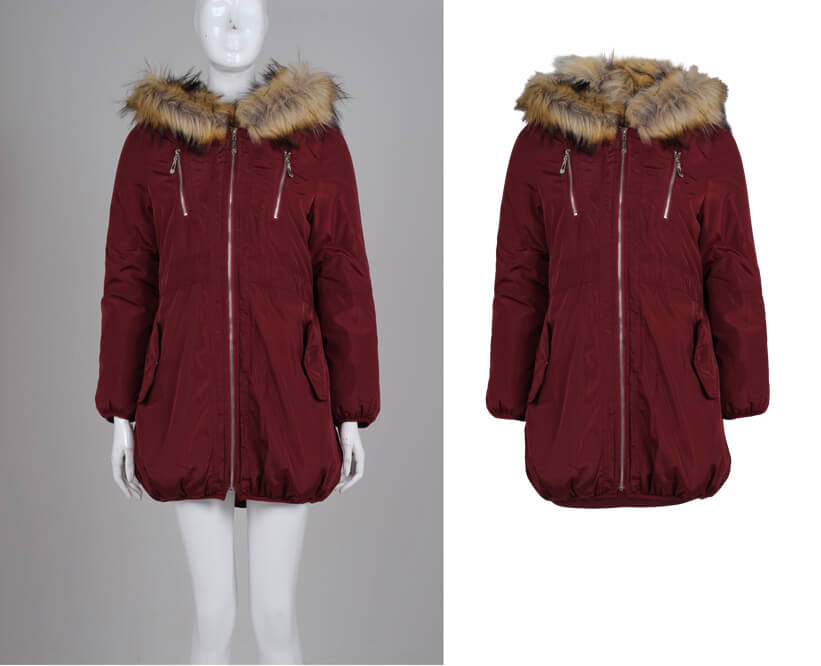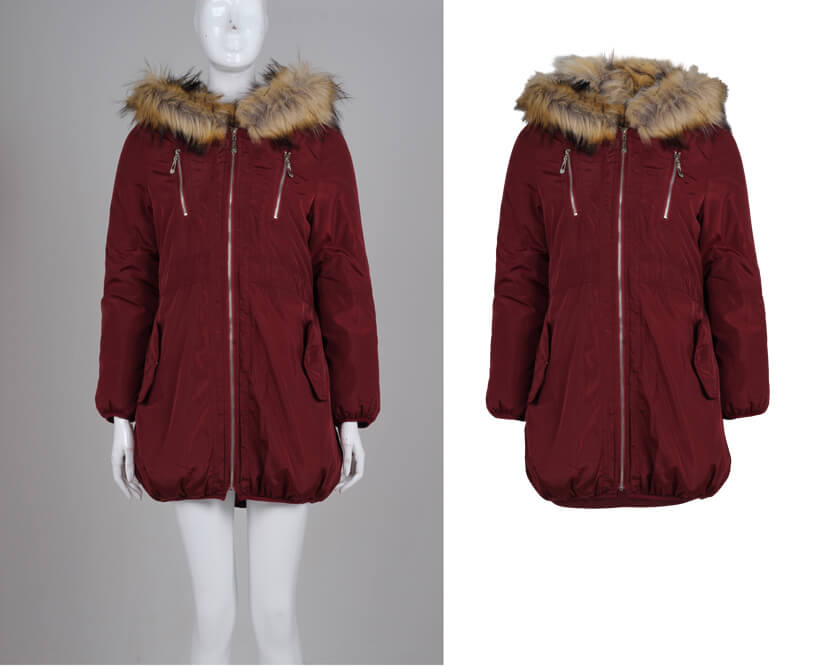 Ghost mannequin service needs some steps to be done perfectly. The cloths are shoot with dummy to show the natural ghost effect. But that cloths image with dummy can't be used directly with that dummy or mannequin. So before using that kind if images the mannequin should be removed from the cloths. Designers remove that mannequin part from image by clipping path service and fill up those empty areas with extra files or back files. This is done just to produce the natural effect for the cloths.
Create natural effect for the cloth is the main task of ghost mannequin service. After removing the mannequin the neck area become fully empty. This kind of image with empty neck area is not suitable for using any purpose. That is why the neck area should be amended or completed with another extra neck file to bring the natural effect. Only highly skilled designers are able to join the neck area with extra neck file.  Clipping Photoshop has a number of experts who are highly trained on ghost mannequin photo editing service.
The use of neck joint service is vast. The owners of online clothing take ghost mannequin editing from Asian designers. And we are the pioneer of ghost mannequin editing as we have lots of clients who take bundle of neck joint service daily. We use the most updated Photoshop technique to ensure the best quality. Our designers are specialized on image neck joint manipulation service as most designers are from government graphics arts institutes.
Providing best result is our main aim and don't compromise with quality. We have long term business relationship with many of our clients and our high quality service ensured that relationship. Our provided ghost mannequin service is DTP standard with European quality. Our long time working experience helps us to understand the needs of different clients from numerous countries. We can easily guess what kind of service our clients need and we provide best quality based on the needs of them.
Online clothing shop owners, magazine owner, photographer, journalists and different kind of people are our regular clients who take ghost mannequin editing service from us. So to meet their demands we have recruited number of highly experience designers. Our 200+ photo editors provide clipping path service, ghost mannequin service and other image editing service with supreme quality. They work 24 hours in a day, 7 days in a week and 365 days in a year. So, we are able to handle any quantity of images within the fixed deadline. So, if you have thousands of images to edit, then send those relax. We will deliver your completed images before your turnaround.