This digital photo retouching tutorial is going to be your best guideline to retouch a model image.
Today we will help you showing how to retouch a model image perfectly with the help of our newly published digital photo retouching tutorial. It will help you to be the master of model photo retouching.
What's your opinion about retouching or skin retouching? Is it so difficult to retouch the model image? Not at all. The following digital photo retouching tutorial shows you how to retouch an model image easily with perfection.
It is a bit easy to remove background from images with the help of clipping path service. But have you ever tried to remove blemishes, spots, wrinkles from skin to make the model enchanting? Possibly you did that. But because of proper guidelines you failed to bring the expected result.
Don't worry. Here we have showed you the right track how to retouch a model with Photoshop. Just carefully read this digital photo retouching tutorial and practice once or twice. And, promise, you will be able to retouch model photos quickly and easily like clipping path service. This high end retouching tutorial is going to be your best guideline for digital photo retouching.
Digital photo retouching involves numerous field of image editing to make an image perfect. These are cloth retouch, fashion retouching, creases removed and subdue, photo manipulation, skin balance, skin retouch, remove background, model slimming, background removing, knockout the background, old photo restoration, black and white picture to color, product color changing, model retouching, face swapping, skin color correction, skin balancing, and skin smoothing. The retouched model photos get exclusive looking after applying high end beauty retouching.
So, online photo retouching has great role to beautify images. And now we are going to explain how to do fashion photography retouching easily and quickly with the help of this digital photo retouching tutorial.
How to retouch the skin of full model?

Step 1
Open up the picture in Photoshop. We will be retouching this image at its real size.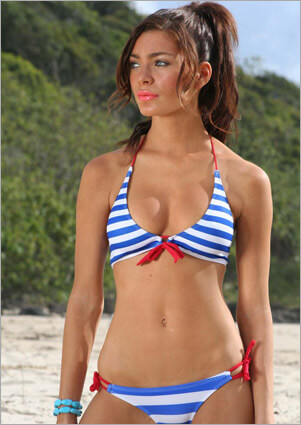 Step 2
Primary thing of digital photo retouching is to remove all the useless pimples/dots around the face. Using the clone Stamp tool, pick a place near a pimple/dot and clone that part to cover itself, net thing is to clear the face. Using the Eyedropper tool, select color on the face, with brush too, set the mode to 50px Soft Round and opacity to twenty percent.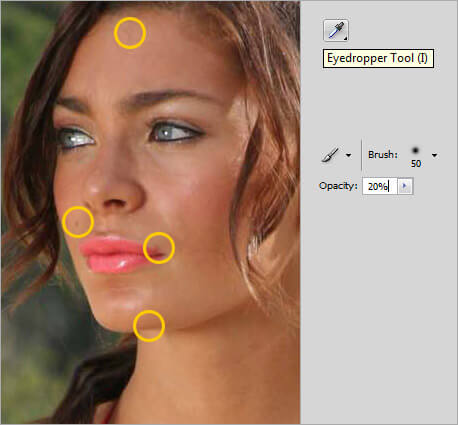 Step 3
Make a fresh layer and begin painting the skin smooth.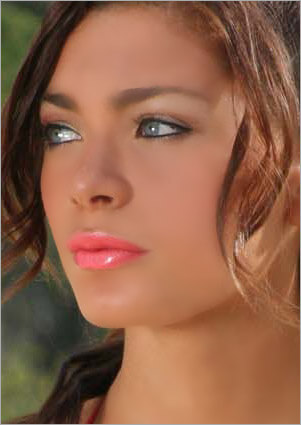 Step 4
Copy the actual model layer and re-title it to "Surface blur". Expect of airbrushing the full body parts, move to filter then go to Blue and after than pick Surface Blur. Adjust the Radius to five and Threshold to twenty.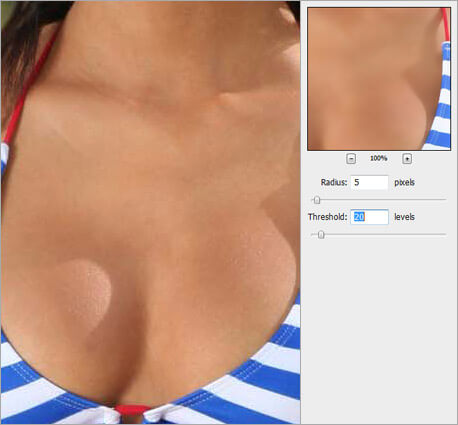 Step 5
When we use Surface Blue, the background and bikini got smooth as well, which is what we do not want. So pick the "Surface Blur" layer and use layer mask to it. Change the mask to black. Using the Brush tool, paint only to expose the smooth skin.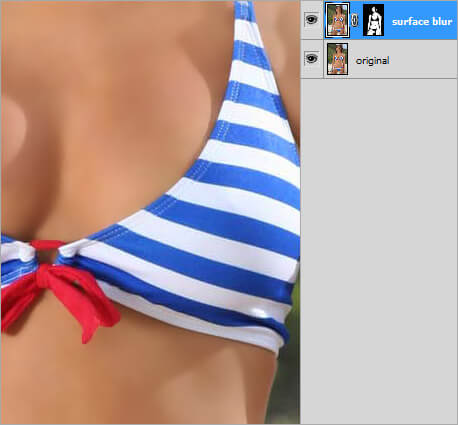 Step 6
Copy the real model layer and re-title it to "Lens Blur". Pick the copy layer and go to Filter and then go to Blue after that pick Lens Blue.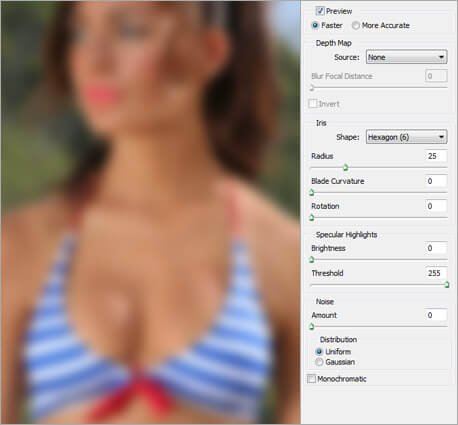 Step 7
As the full picture is influenced, we need to make a mask so just the background is unclear. Use a Layer Mask to layer of Lens Blur then using Brush instrument with shade #000000 to hide the model.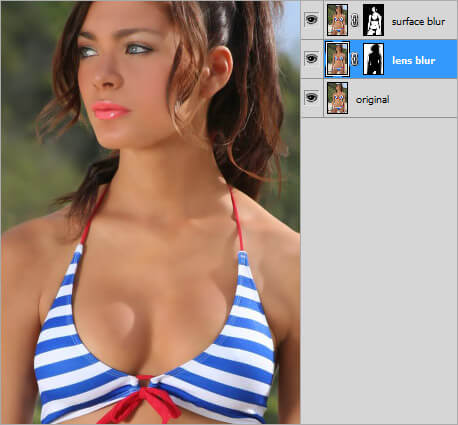 Step 8
Copy the real model layer again. Rename the copy layer to "Soft light". Rearrange this layer to be above all other Photoshop layer. Set its Mode Blend to light soft.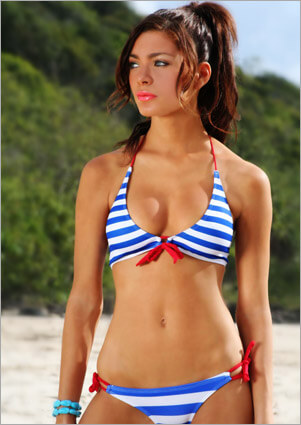 Step 9
Make a level adjustment layer and figures in values 15, 1.00, 255.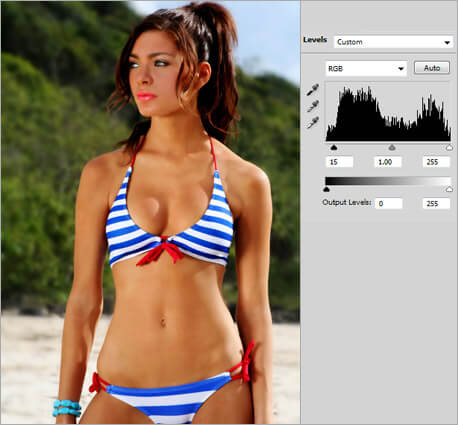 Step 10
Make Contrast adjustment/Brightness layer and set the contrast to ten.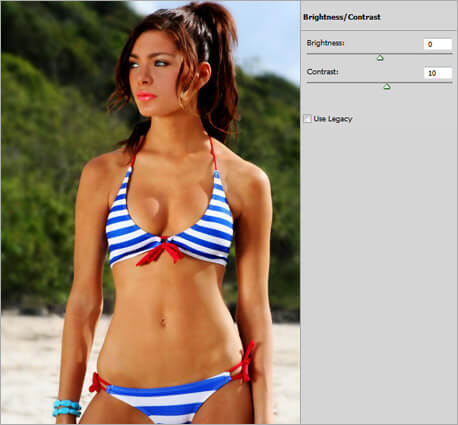 Step 11
Make the Saturation/He Adjustment layer and set the saturation to negative five.
Step 12
Make a Curves Adjustment layer and change the Green and Blue curves to appear similar to the ones below.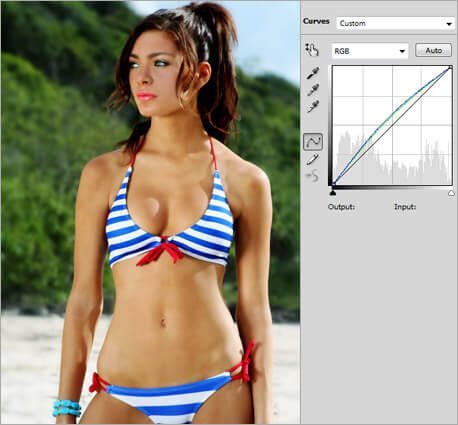 Step 13
This is an easy yet perfect photo retouching tutorial of full model. Hope you love this.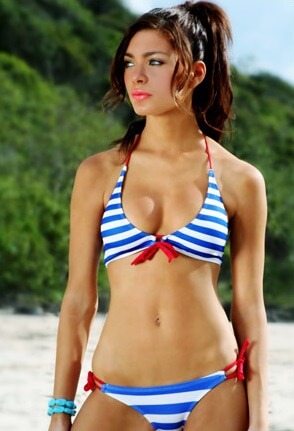 Through the above digital photo retouching tutorial we have tried to explain how easily one can retouch the skins of models. The aim of high end beauty retouching is to remove bad effects, spots, blemishes and wrinkles from skins and faces of models. If you need more help on online photo retouching service, then you can visit our several blogs where we showed fashion photography retouching technique in a very easy and clear way.