Today we will show you how to change the color of image within a very short time.
The following easy tutorial is going to describe some simple techniques to change the color of image in Photoshop. This write up will help you to change the color of any kind of image.
Designers change the color of the object or the complete picture to look perfect. Correcting brightness, leveling contrast, adding objects, changing environment and lots of things are done by color correction procedure. This is not easy at all. But if you follow this tutorial carefully you will learn how to change the color of image perfectly. Many clipping path service companies also provide color correction service at great cost.
But if you yourself can change the color of any image, then you don't have to look for and Photoshop clipping path service provider. You can easily gather the knowledge of this photo editing service technique if you practice this tutorial once or twice. The main aim of the content is to teach how to change one color to another in Photoshop.
For the pictures where objective is in hard situation, color changing service is the remarkable solution to perfect the picture to the desired one.  In color correction technique, remove background and drop shadow effect play a vital role to make image stunning.
How to change the color of image?
On the Photoshop sharing a place with the Brush instrument is the Color Replacement instrument. For this instrument you will need to choose the color that you want to paint and with then click and paint over the picture.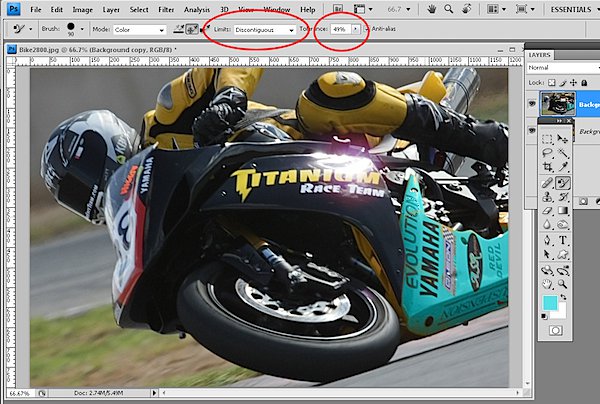 This tool reads the shade quickly under the cursor as you begin painting and looks for similar shades to paint over. This permits you to paint a bit outside the lines and still change only the shade that you want to change.
Using the instrument options you can see the Tolerance to so, for instance, if you are recoloring a place that is fairly powerful color, you can use a minimum tolerance to isolate the shade. On the other hand if you are recoloring a place where it is quite a bit range in shade because of texture or shadows, for example, you can raise the tolerance to recolor a larger range of shades similar to those under the cursor.
This tool handy for detailed job as it permits you to resample and paint a number of times so that you can get in around different places rejecting other places if you don't want to paint over them.
The options with this instrument contain Limit options which permit you to indicate whether only areas of shade nearby to those under the example position of the brush are changed or if all similar places under the brush are painted over.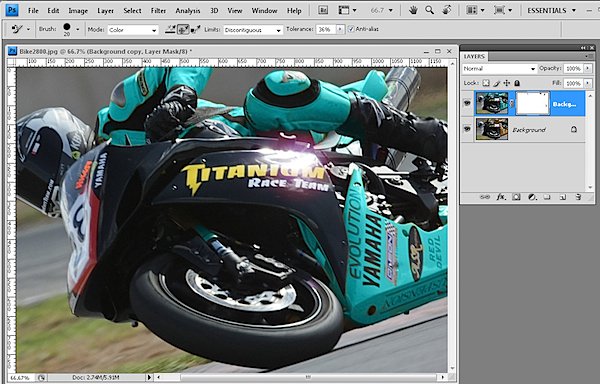 The color replacement instrument must be used on a layer has colored pixels so it is remarkable to copy the background layer and job on copy layer. Then, if you make an error you can mask out the changes that you have made to the copy later to recover detail from the picture layer underneath.
Replace Color
Another instrument that you can use to change shade is the Replace color instrument. To view this tool at job, choose image, then adjustments and after that replace color. This instrument must be used as an adjustment and cannot be used an adjustment layer.
With this instrument you click on an area in the picture that you want to change the shade of. Click to include Sample eyedropper and then click to choose more of the shade to change.
The Fuzziness slider lets you include more or less adjacent pixels to fix – use it to get a perfect change from one shade to the next. Use the Lightness sliders and saturation to tweak the effect.
The Localized Shade Clusters checkbox can support refine the shade selection it is value testing to see if it makes a difference.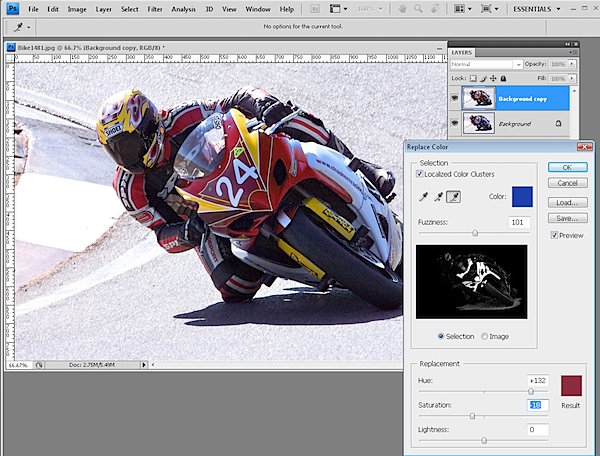 When you apply to fix this a copy of the actual picture layer you can include a layer mask to the top layer and use it mask out any places that are affect by the re-shading which should not be affected.
So, it's really simple to change the color of images. Image editors use the color changing procedure for eye color change Photoshop, hair color change Photoshop. If you want to have more ideas on how to change the color of something in Photoshop, then please ask us any time.
Thank you! Happy editing!