This photo manipulation tutorial will help you to change the sky background from any image.
Sometimes we face problems with the bad sky effect on our images and this photo manipulation tutorial is going to teach you how to remove bad sky from images and set an enchanting sky.
Hey! You have a high quality camera or mobile camera. And you are passionate enough to capture the picture of nature. You have also a picture mania. Suddenly you make a shot of a building. But after taking the shot you can realize the sky color is so bad and gloomy. Possibly you know how to remove background from image by clipping path service. Or you can add drop shadow or other effect with your images. But you can't change the sky or back view according to your wish.  So, will you delete your favorite shot?  Not at all. We have here presented a short but useful photo manipulation tutorial for you. Follow this tutorial on how to change the sky background.  And you will be able to change that odd sky from your image. It is so much easy like clipping path service or photo cut out service.
On our last post we showed how to make Photoshop reflection shadow easily and quickly. Now we will show you how to change bad or gloomy sky from an image and replace that with a mind-blowing sky.  Just follow this photo manipulation tutorial carefully.
The process goes through a few steps. If you try one or two times this image manipulation service tutorial, you will be able to change the sky of an image at your home.
So, let's start.
At first choose an image with good sky from Google or any other source. You will replace this bad sky with this selected. So, select the most perfect whit suits with you captured image.
Here first picture is my taken shot.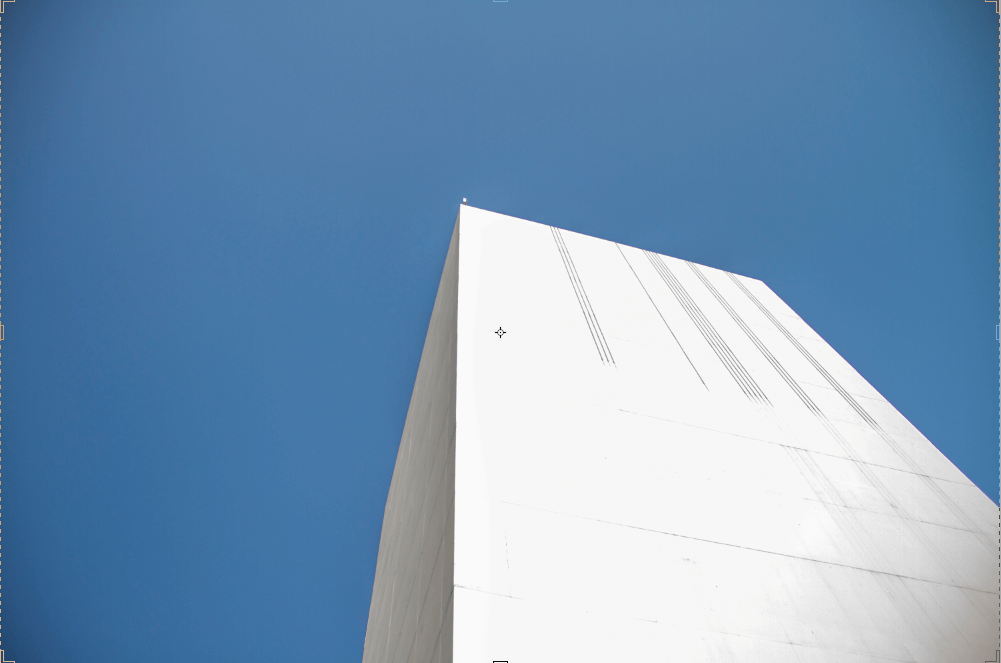 What you think? Is it a good sky at all? It's gloomy and not attractive. It is useless and it destroys the quality of my image.
So, I am going to change this with the following sky.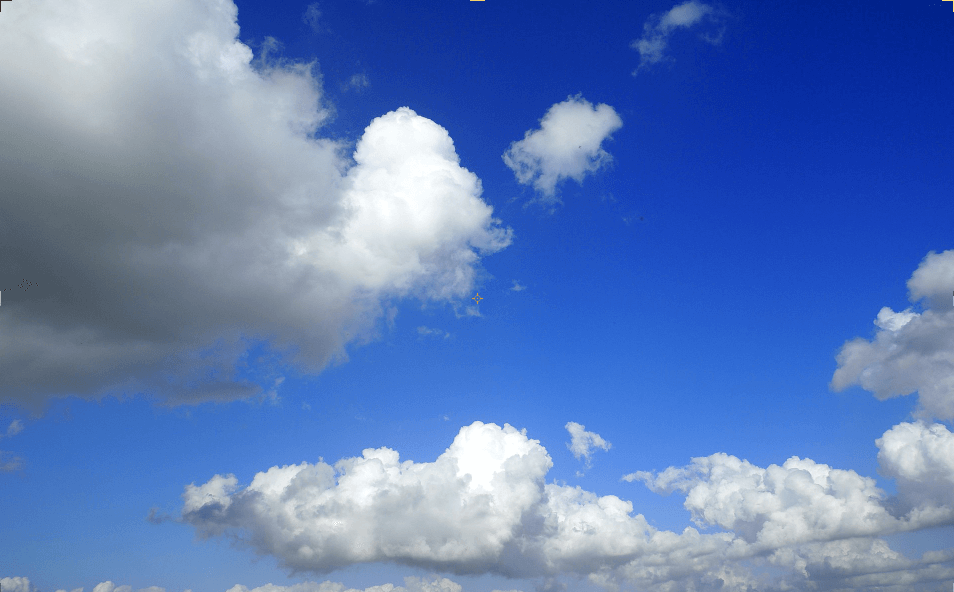 The second one isn't a better one. It has beautiful cloud, lighting, sunny effect. So, it easily attracts the mind. That is why I have selected this one to show you through this photo manipulation tutorial.
Now your first task is to open both images in Photoshop CS6 or CC. Both are suitable for this work. I have used Photoshop CC.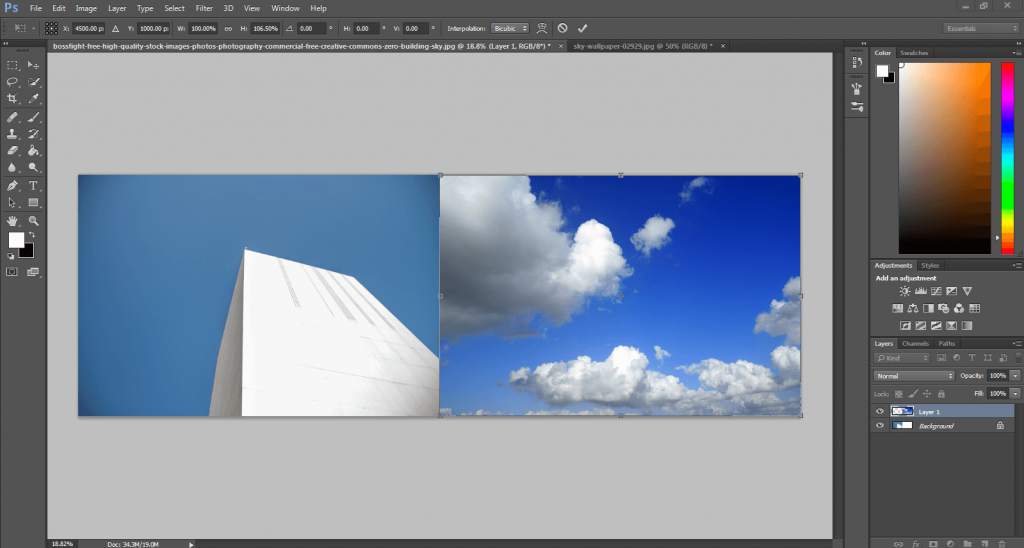 After opening both images on Photoshop just select the good sky image. To do that press Ctrl+A. And then copy that image by pressing Ctrl+C. Now the image has been selected and copied. Please see the shot.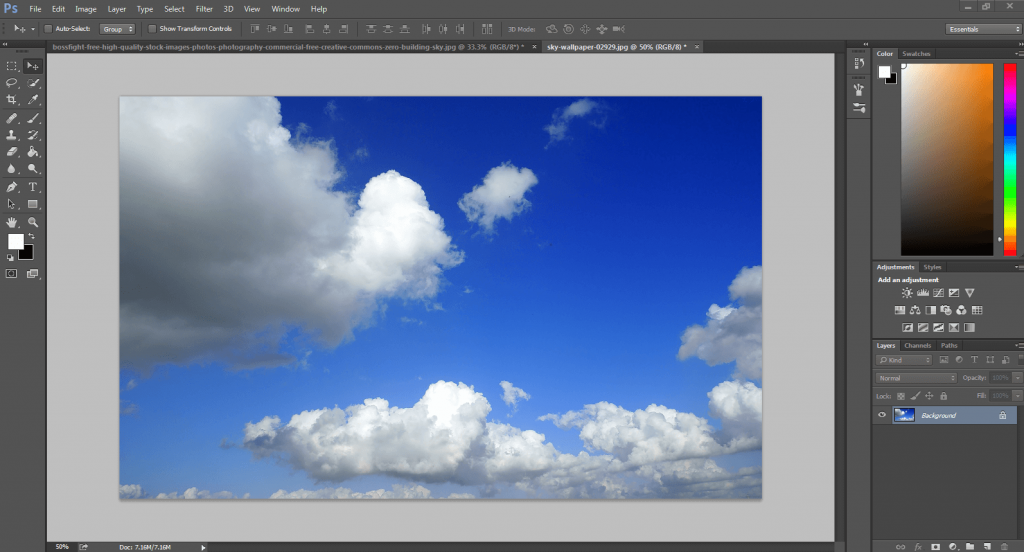 Now go your captured image and press Ctrl+V and paste that good sky image on your original one.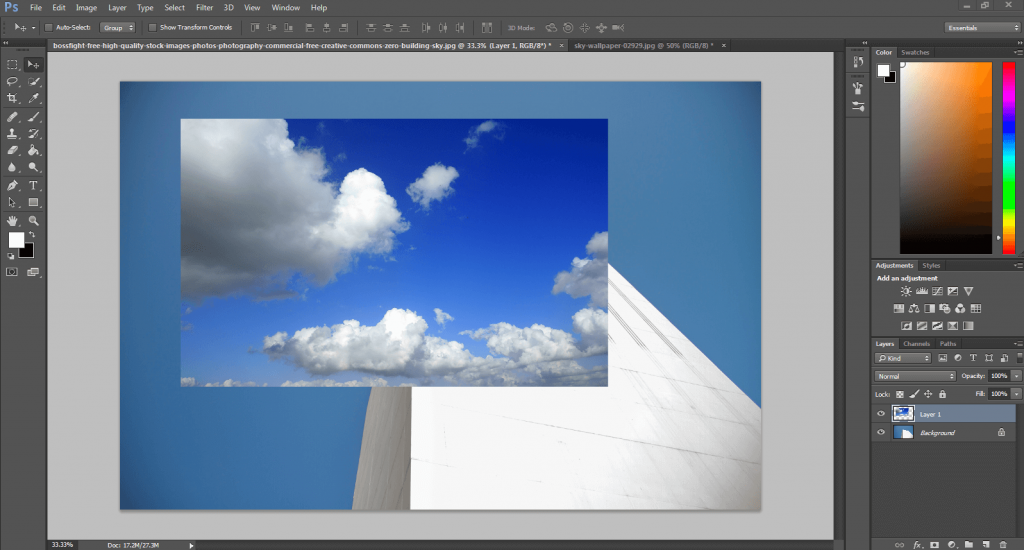 You can see the two images are different in sizes. The original one is bigger than the selected one. Don't worry. Here is the twist of photo manipulation service and how to replace the sky. You can enlarge your selected image. For that press Ctrl+T on your keyboard and you will get the option to make the image small or large. If you press Ctrl and move the cursor, you will be able to change the pattern of selected image according to your wish.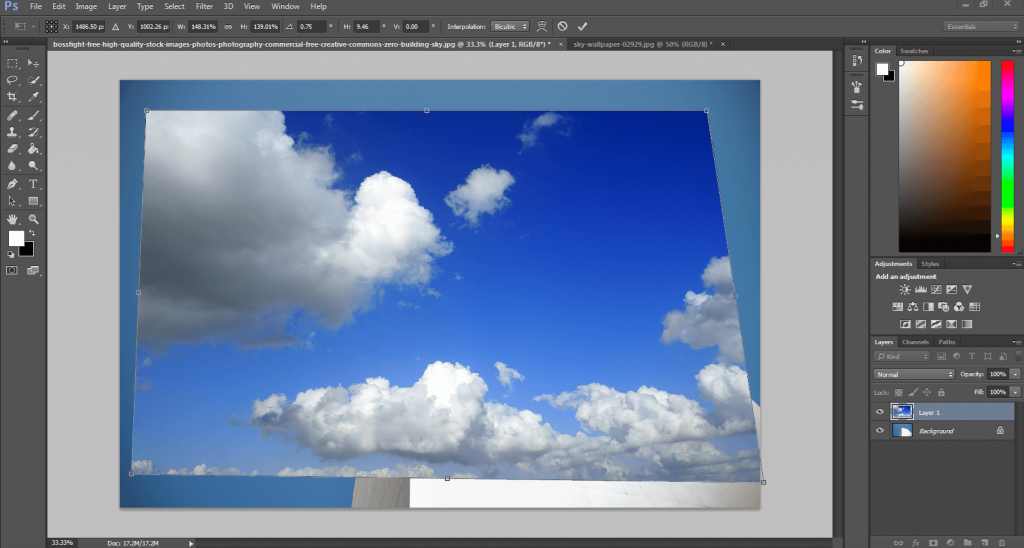 Now drag the selected image and cover your original image fully with this selected one. Like this;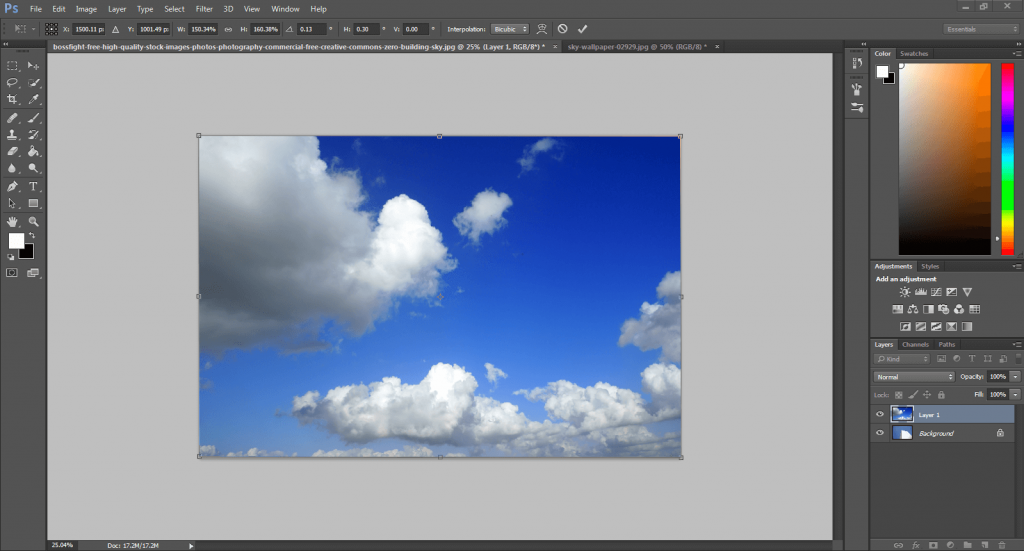 Now click on the ,move tool to apply the selection on your original image.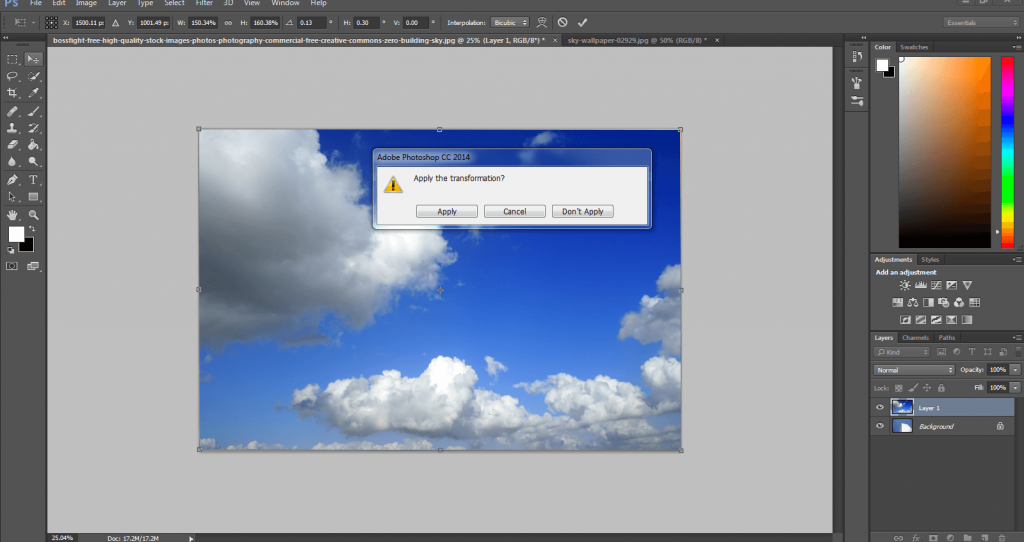 Next go to the layer option and off the layer 1. You can see the original image now. If you off and on the layer 1, you will see both selected and original images. Here the layer 1 will be off.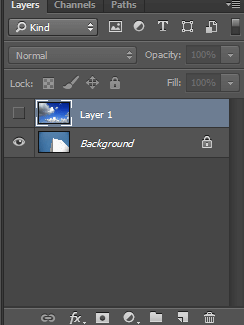 Then go to the background layer and select quick selection tool to select the background. You will not select the building here; juts select the background of your original image.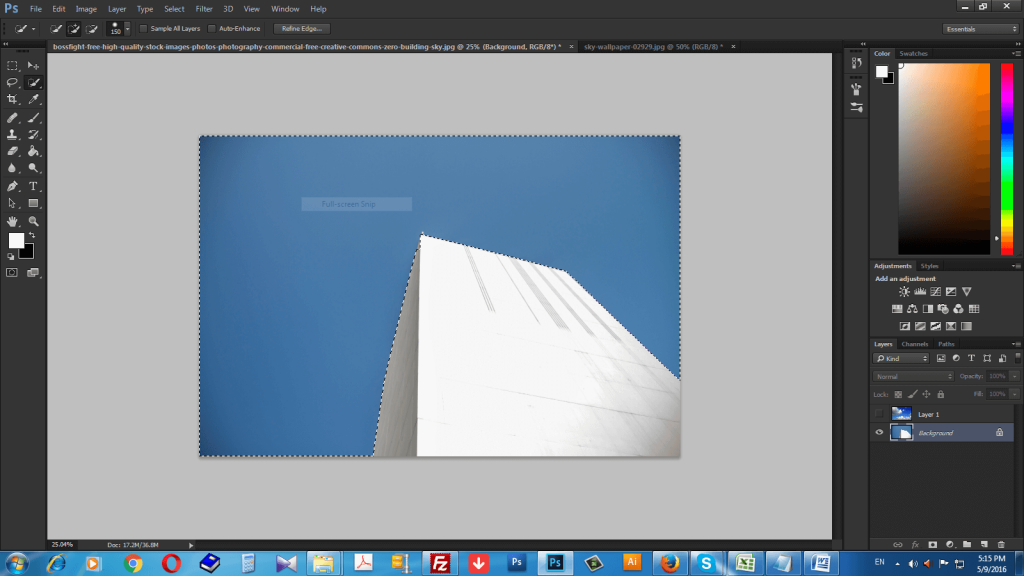 So, you have selected the background.  Now go to layer option and select layer 1. Then go to at the bottom of layer palate and click on add layer mask option.
Now have a look on the image and you will see the magic. The original sky has been replaced with good, enchanting sky.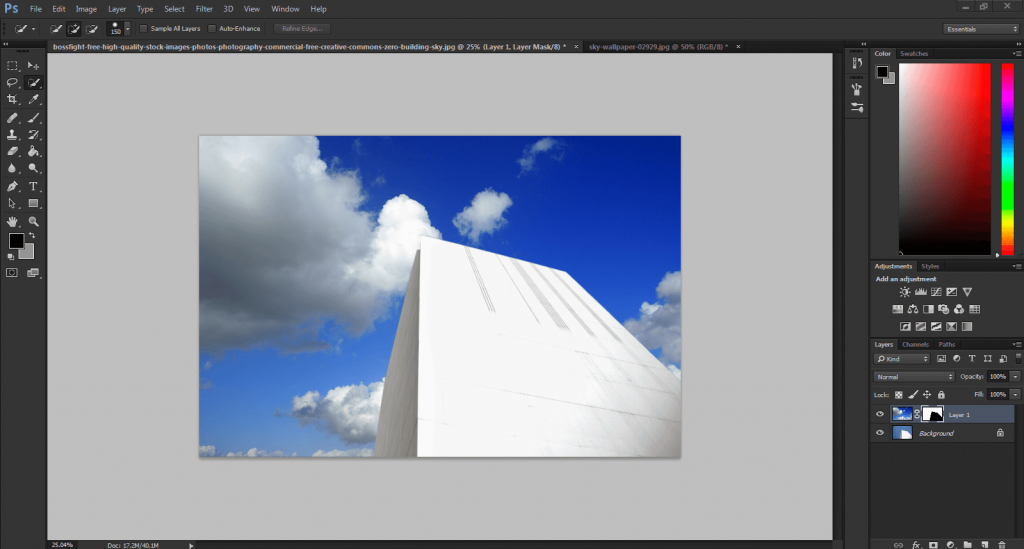 So, what you think? Isn't easy enough? Of course easy. Just a few practices are needed to be able to make this dynamic change on the sky by replacing sky in a photo. Now you are able to change any kind of sky of any images according to your preferences. So
We have more interesting Photoshop tutorials on other photo editing services; clipping path service, remove background, photo cut out, photo retouching, drop shadow, reflection shadow etc. All are so much easy to follow. If you follow those all, you will be an expert photo editor within a short time and can edit your favorite images at your home.
If you feel any inquiry or question regarding any photo editing service, please knock us any time. Our highly skilled designers are ready to help you 24 hours in a day, 7 days in a week and 365 days in a year.
Cheers!